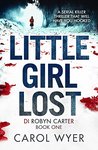 Little Girl Lost by Carol Wyer
My rating: 5 of 5 stars
Released tomorrow watch this space for my 5 Star review of this totally gripping psychological thriller.
A perfect family hiding disturbing secrets. A killer who wants the truth to be told.
A teacher goes missing under suspicious circumstances.
A millionaire is murdered at a local reservoir.
For Detective Robyn Carter, there's no obvious link between the men. But as she starts to delve into the cases, her investigations lead her to Abigail, perfect wife and mother to beautiful little Izzy. What was Abigail's connection to the victims? And why is she receiving threatening messages from an anonymous number?
But as Robyn starts to inch closer to finding the killer, Izzy is abducted.
Unless Robyn gets to the twisted individual in time, a little girl will die …
Gripping, fast paced and nailbitingly tense, this serial killer thriller will chill you to the bone.
View all my reviews